The 1880 centennial committee applied private contributions to acquire the 07Oct1780 battlefield and erect a monument to "the turn of the tide" of the American Revolution in the south. They listed two dozen patriots who sacrificed their lives for our freedom. Though it is far more important that we remember and preserve what they fought for, we should properly name our forefathers.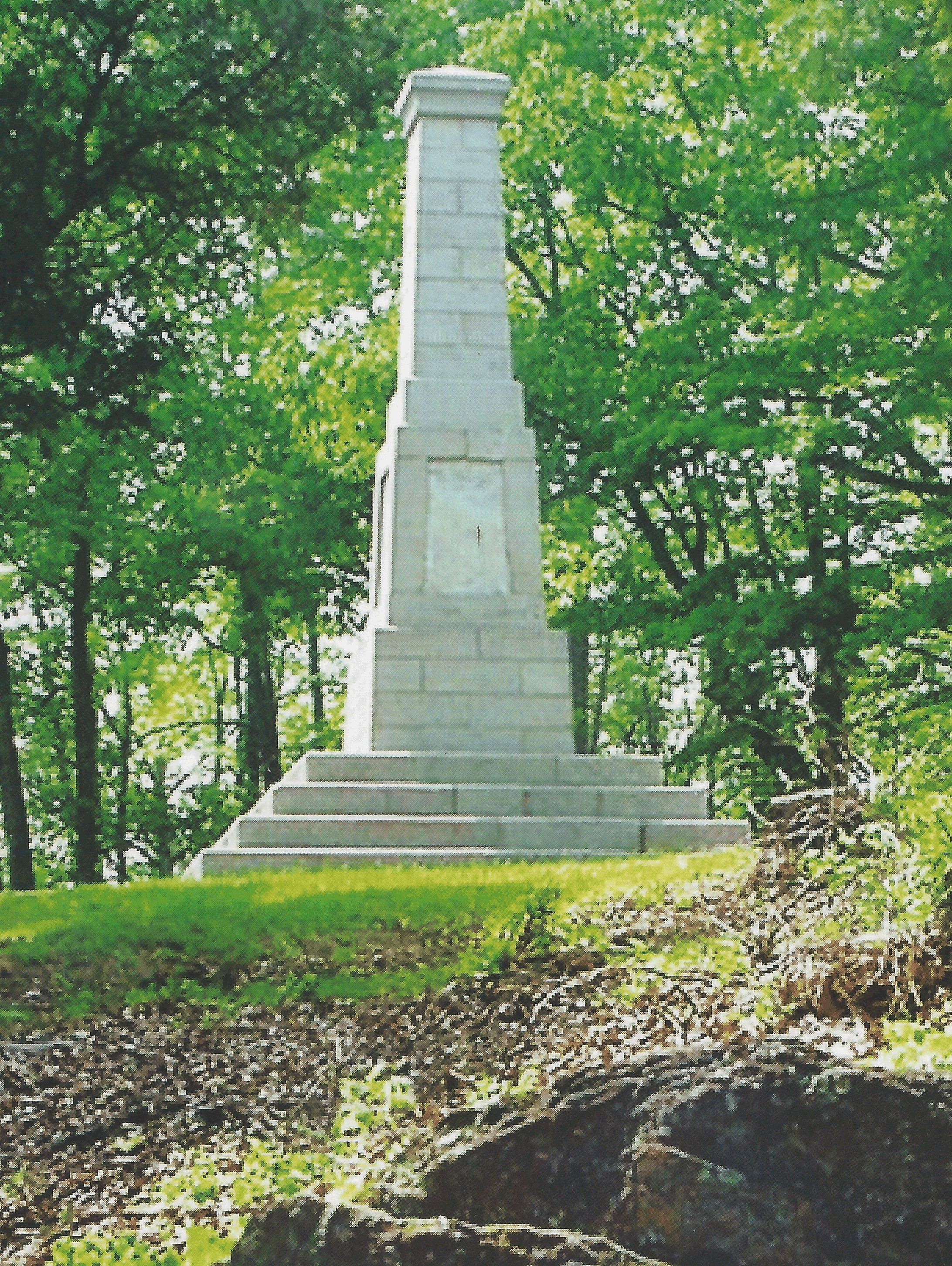 When the 1880 Centennial Committee disbanded, York SC DAR inherited the battlefield. Twenty five years later they got $30,000 of OPM (other people's money) and US Corps of Engineers help to make a new monument. In 1909 it was unveiled without the casualty plaque on east face. In January 1910 a bronze casualty plaque was installed showing additional categories of mortally wounded and wounded. The new plaque omits the 1880 entry for David Beattie since he was not killed in the battle.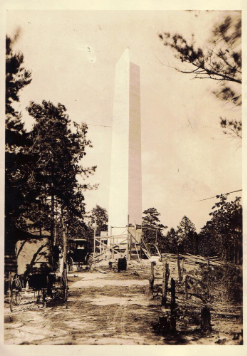 The park superintendent points out that most military monuments contain errors. True. The 1982 Viet Nam Wall in DC has 58,272 names. But in 1982 it was only 99.6%. It left off 68 Marines killed when their R&R flight crashed in Hong Kong. (This addition was ordered by President Ronald Reagan.) Another group of 110 were added when the geographic criteria were enlarged to include people killed (95 servicemen) outside the war zone while on or in support of direct combat missions and 15 servicemen who had subsequently died of wounds received in Vietnam. Expanded definitions and more due diligence have added 51 other names. The latest names added in 2011, brought the number of names on the black granite Wall to 58,272.
The patriot casualty plaque on the NE face of the 1909 obelisk displays names and ranks of  20 killed, 7 mortally wounded, 33 wounded, 9 errors, 51 casualties. Ensigns are called lieutenants while sergeants and corporals are called privates. We know of 24 killed, 13 mortally wounded, 78 wounded, 115 casualties, and 21 wrongly published names.
We are unlikely to know the complete Kings Mountain casualty report on this side of the pearly gates, but can do better than less than 50% on the 1909 monument. National Society, Sons of the American Revolution performs due diligence to mark Revolutionary patriot graves in obscure places around the country. Due diligence is encouraged for the Kings Mountain casualties by refining this "electronic virtual bronze monument" before entertaining any thoughts of granite or physical bronze. Can you volunteer to contribute information or displays? Feel free to click the "contact us" tab to tell how this electronic monument might be refined.
This site might make your reading of Lyman Copeland Draper's Kings Mountain and its Heroes more understandable. History needs to accurately record who, what, when, and where before it can delve into how and why. These pages show things hidden from Draper. It can bridge some gaps caused by shifting vernacular. It also shows some things which Draper knew, but his publisher scrambled.
The "BKM people tab" focuses upon the patriot casualties. It has some less researched rosters and notes about other Kings Mountain battle people. The "OVT places tab" offers an alphabetic list of place names to better explain some of Dr. Draper's geographical titles which have disappeared from Google maps.
There are some good collections of information about the battle which turned the tide of the war.
To learn more about:
-Why they fought
-The situation when they fought
-Who fought
-How they fought
-Why the patriots fought better
-The women of Kings Mountain
———– look into the BKM internet and BKM books tabs.
Some Kings Mountain internet links
Leads to books about Kings Mountain
Link to Fincastle Resolutions to see the January 1775 words of southwest Virginia patriots declaring their willingness to fight for freedom.
—————————-
A soldier knocked on the door. "Madam, we hear that your husband is failing to show the proper respect for the leader. "
"I am sorry, but he is out of town today."
"Where?"
" I don't know. Maybe up in the mountains."
"Well when he gets back, let him know that we need him in the army. And if he doesn't straighten up his language we'll have his hide."
It was not the Tigris River valley 1980, but the Catawba River Valley 1780.. The soldier was not in the brown shirt of the Baath Party of Saddam Hussein. The lady was not a Sunni or a Kurd. The soldier wore the Red Coat of King George's dominant world army. Patrick Ferguson was backed up by the green coats of American provincial troops, well trained and experienced second and third generation sons of the British who had settled New England. Out beyond the fence were their new recruits.
On Ferguson's fourth recruiting loop through South Carolina in the Autumn of 1780, some North Carolina Catawba Valley neighbors of Margaret O'Neil McDowell had joined the Loyalist Army. It was perhaps a shock that a Scottish Presbyterian confronted her. She might expect the Anglican Welsh and English would join King George instead of their American neighbors. In September 1780, about 160 North Carolina patriot militia and some Georgia patriots fled across the mountains to the Watauga valley for refuge.
Before June of 1780, the door might well have been that of Grizzee Bowman. Grace Greenlee Bowman had moved from old Frederick County Virginia to the Catawba with her husband John Baumann after their Opequon neighbors, Charles and Margaret McDowell and others came. The Alsatian family had learned to speak the language, both Shawnee and English. Their German name was now Anglicized Bowman and Johann was sheriff of Burke County. In June 1780, John Bowman was mortally wounded in the battle at Ramsour's Mill (Lincolnton NC) leaving Grace Bowman a widow with a young daughter Mary.
Susannah Lytle might just as well have answered the door as she did upstream near Davidson's Fort (Old Fort NC) in her conspicuously defiant manner when Ferguson's Corps was pillaging her farm. The Patriot ladies of North Carolina were committed to their cause and no foreign threat could cause them to betray their men.
From the McDowell house, Patrick Ferguson's threat to the Catawba Patriots spread over the Blue Ridge to their refuge on the Watauga where they had fled from the Tory regiment. Ferguson released a prisoner, Samuel Phillips, to find Joseph McDowell and deliver a message; "If they did not desist from their opposition to the British Army, he would march his army over the mountain, hang their leaders, and lay waste with fire and the sword."
Thus began the rally to the Battle of Kings Mountain. It was not the kick off, but the fourth quarter. Ferguson had such a huge lead that he was taunting the losing team. Stay tuned for the exciting play by play after these brief messages.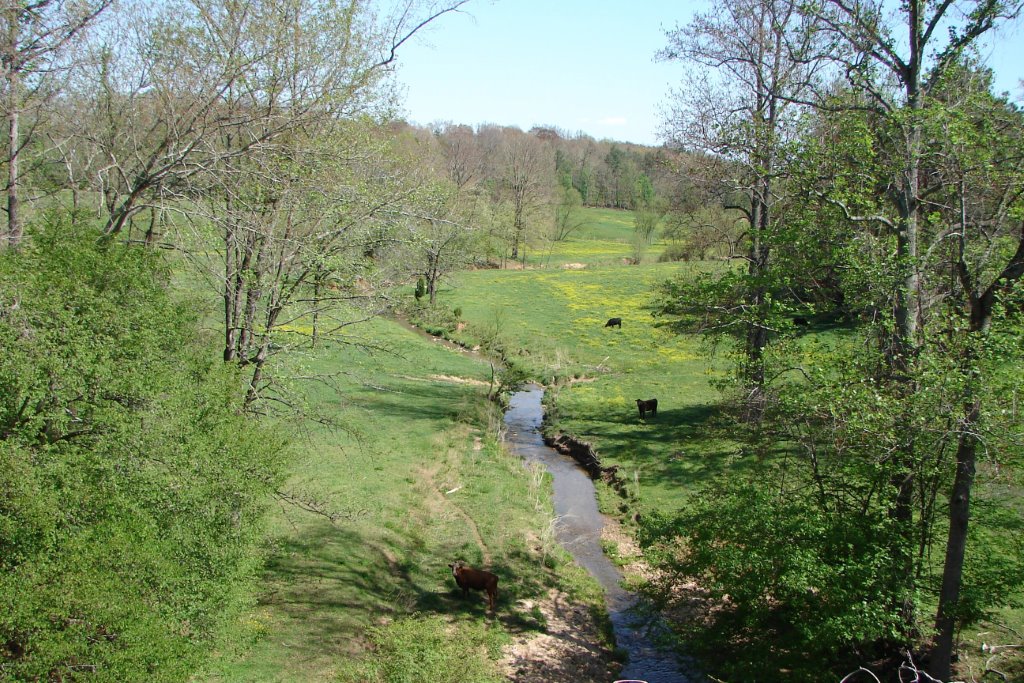 The over-mountain men saw King's Mountain in October. The "South Fork Boys" knew how it looked in April like this 2012 view. Major Chronicle had used the ridge for a venison hunting camp. He described Indian Knob to Colonel Campbell's officers so that they would know about the likely guard post.
Kings Creek flows past a little ridge in the "New Acquisition District" of South Carolina just south of the North Carolina line near Kings Mountain NC. You may study the structure of South Carolina in naming the new acquisition York District, also in changing their statewide use of the term district instead of county and the naming of York County. Lyman C Draper wrote the definitive history of the battle at Kings Mountain. It is a tougher read now than it was when written because familiarity with the names of people and places was much greater then. Further, many of the names and nicknames have changed.
Al Gore was far too late with his invention, so Draper used the technology of the time. Quill pens, walnut stain ink, cursive manuscripts, and unstamped letters delivered under signature of postmaster yielded to type set, printed documents, and postage stamps. Now we can use electronic ink substitute and the internet to find, gather, send, and post things.
The Virginia Historical Highway marker in Abingdon reads "King's Mountain Men" in the possessive form while those in Carolina who possess the name use Kings in the plural form.
Will Graves engineered a web based library of Federal Pension Application (FPA) transcriptions. He has been faithful to the accurate reading and transciption of very disorganized and some virtually unreadable original archives. Will also has a good book about Colonel James Williams, who was mortally wounded, available at RevWarApps.org. The FPA testimony of battle participants and widows was under oath before contemporaries. Some fraud, some greed, some forgetfulness, and some clerical recording cloud the facts, but much information unavailable to Dr. Draper reinforces our respect for his work and adds to our understanding.