The Overmountain Victory Trail traces the routes of Carolina and Virginia patriot militiamen who tracked, fought, and killed Patrick Ferguson, then took his captured provincial soldiers and loyalist militia to the Moravian Towns of Wachovia.
See the hints below these links for using the ACME mapper screens.
Virginians-Day by day 23Sep1780-22Oct1780.
Muster Ground 24Sep1780
Pemberton Oak
Sycamore Shoals 25Sep1780
Shelving Rock 26Sep1780
Yellow Mountain 27Sep1780
Cathey's Plantation 28Sep1780
North Cove (Tennessee Volunteers) and Turkey Cove (Virginia Volunteers) 29Sep1780
Quaker Meadows 30Sep1780
Gilbert Town Camp north of Confluence Second Broad and Cane Creek 04Oct1780
Alexander's Ford Green River 05Oct1780
Cow Pens 06Oct1780
Cherokee Ford Friday 07Oct1780
Kings Mountain Saturday 08Oct1780
Shallow Ford of Yadkin 14Oct1780 and 21Oct1780
Moravian Towns 22Oct1780
whoopeeee
Hints: When using the ACME mapper links which are available for some of the OVTA places:
-I like the TOPO view option which you may set in the upper right. It is 1950s vintage locality layout. Hybrid is my second choice. I use map to see highways and orient myself to today's routes.
-You may drag the map around. Do not click on the thumb tacks or you will need to wait on the timer to close the title box. Drag with your pointer off the tacks.
-The box at the lower right shows the co-ordinates of the cross hairs at the center of the screen. I find it handy to drag across and copy (Ctl-C) for use in other places.
-Double click will zoom in and center the point where you click
-The zoomer control in upper left gives you down low or high in the sky focus
Note that William Dale Carter might place the thumb tack precisely at the patriot's chair at his dinner table. Your humble obedient servant might have fumbled a few across the fence in the next door neighbor's field.
Lexington Massachusetts displays the oldest national military monument for the "shot heard around the world." Kings Mountain holds the second, Dr. William McLean's marker for four "South Fork Boys" who died in the battle which "turned the tide of the war." The 1815 monument is pictured by RL Anderson in the Lincoln County link under the BKM internet tab, page 13. The Overmountain Victory Trail displays background history of the patriots at Kings Mountain marking places from whence they came and to which they returned. Who they were, cross mountain relationships, their roots, their methods, background stories, and the causes for the battles can shine on this virtual monument.
link to 1880 Kings Mountain Monument view
Then 1909 work start: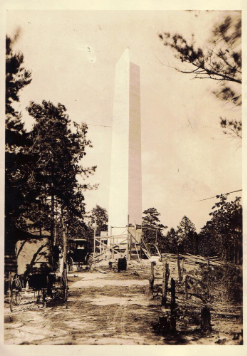 Do you remember when there were no misteaks on the 1909 Kings Mountain monument plaque? This picture shows it under construction. This web site is also under construction. You may volunteer to help.
The Overmountain Victory Trail are the routes which the Patriots used to join forces, then cross the Broad River at Cherokee Ford to pursue Patrick Ferguson's enemy forces to Kings Mountain. As residents of the places and descendants of the people add more details, we will have a more complete picture of the communities from which the patriots converged to form the brigade which reversed the direction of the southern front of the American Revolution.